Hanoi College of Technology and Trading has the main campus located at No.252 Ha Hoi, Tan Lap – Dan Phuong – Hanoi and the second campus at No.28AHo Tung Mau – Cau Giay – Hanoi.
With well-equipped facilities, and planned and invested on an area of more than 5.000m², the college has the goal of developing under the model of the national standard college with training scale in leading collages in the country.
NATIONAL STANDARD FACILITIES
Modern lecture hall, fully equipped with standard projector and sound system, supporting for teaching.

Library, e-library, lab rooms and hi-tech laboratories are focused on investing

Indoor and outdoor physical areas include: artificial grass field, volleyball court, handball court, athletic field, fitness room, dance sport room,…

Areas for practicing, dormitory, canteen, areas for services…

Modern and spacious 5-storey dormitory with 400 rooms:

Rooms of the dormitory are clean, airy, self contained, and equipped with hot and cold water.

Canteen and area for services are spacious, hygienic and supported with food costs

The campus is quite spacious and covered by the green space

Our campus on an area of more than 5.000m²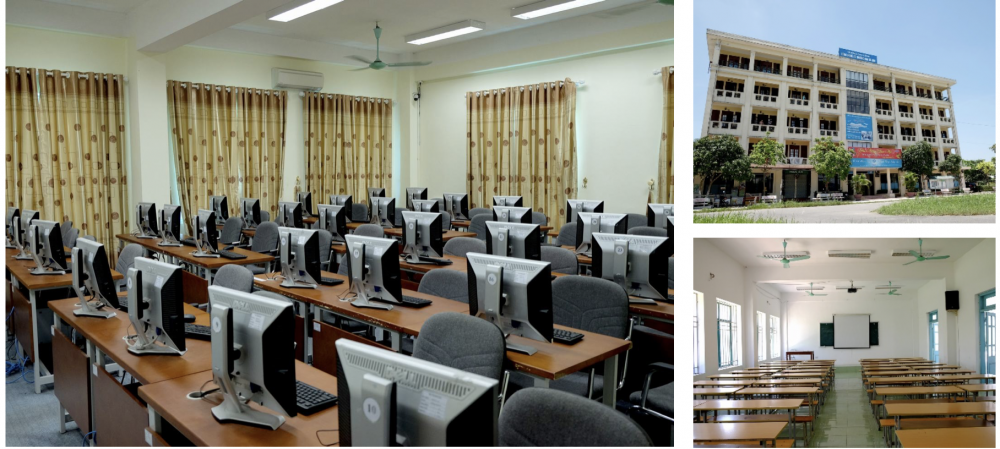 CAMPUS FOR TRAINING AND PRACTICING
Workshops for Technology – Engineering faculty are equipped with modern equipment, divided into 3 large workshops, ensuring the training quality of electric – electronic, architecture, construction, Automobile technology, and Mechanical – Automation faculties…

Area for practicing of Hotel – Tourism faculty is invested 90.000$ according to the standards of 5-stars hotel

Modern lad rooms are invested more than 1 billion for ensuring the training process are under the most advanced curriculum.

Campus for practicing or workshops are built under the actual enterprise model, with consultation and teaching of the professionals in the industry for helping students to get closer to the working environment.