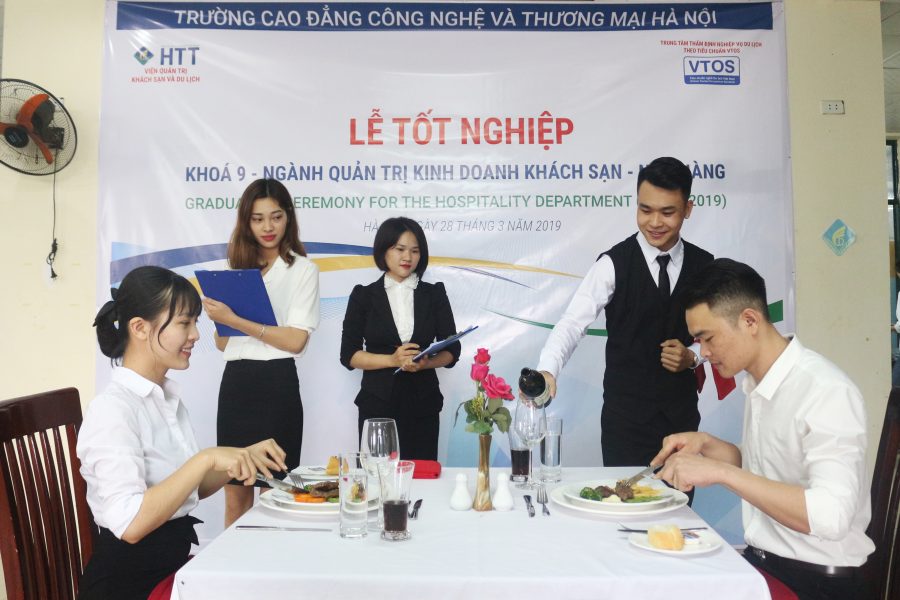 OVERVIEW
Mission : To create high-quality human resource to serve industry in Tourism and Hotel – Restaurant with standard output suitable for international requirement
Training goals : Student in Faculty of Tourism and Hotel management are trained with specialized knowledge about enterprise management, how to make business plan, know how to organize business activities and create tourism enterprise, especially tourism enterprise, restaurant from the standard above
 Student after graduated have knowledge about reception, bar and how to manage them in hotel, also have knowledge about tourism management and speak English fluently
Achievements :
Currently be one of the field in our college that have 100% of student have a proper job after graduated

Most of student has been offered a part-time job from first year and in third year, they can work in the professional environment

Establish strategic relationships with major hotel and tourism groups in the country and abroad: Lotte, Keangnam, Crown Plaza, Merriott, …

Expanding international job opportunities for students through cooperative training programs, labor transfer with Japan, Germany and Singapore.…
FIELDS OF STUDY
1. Hotel management
2. Tour guide
3. Food processing Technology
4. Restaurant Management
5. Restaurant and hotel skills
6. Reception skills
7. Inbound Tourism
LEARNING AND TEACHING
Teaching methods include face-to-face delivery, tutorials, classes, workshops and industry seminars. Students will undertake team learning activities and projects – projects require students to effectively communicate outcomes across all communication modes (speaking, listening, writing, drawing and presenting) to a range of audiences.
Examples of assessments may take the following forms:

Examinations
Assignments and projects: individually or in groups
Reflective journals
Assessed tutorials: a form of in-class test, which may be done individually or as a team.
Self-assessment and peer-assessment.
Industry partners are a key component of the program, and you will have access to professional mentors, guest speakers, and internship opportunities.
CAREER
You will be prepared to pursue exciting careers in areas including:
accommodation management (hotels, resorts, hostels)
events, weddings and banquet management
food and beverage
guest relations and communications
marketing and sales
operations management/planning
recreation and sports
special-interest tourism
tour and travel agencies
tourism planning and promotion
FURTHER STUDIES
When you successfully complete this program, you may be eligible for entry into a bachelor degree of many universites in Vietnam or cooperation programs in Australia, Korea, Germany,…